Thank you for using JudOrange Web Inspector 🙂
Remember this project just start 🚀
Please leave a comment if you like each update ⭐️

Update notes
JudOrange v5 (Next update)
Fresh new
New tool : Timing
New tool : Info
The first web page is loaded locally that allow you to work offline with external web server
Bet­ter UX
More prrofessionnal icon
Bugs fixed
Background scrolling problem (partial fix)
Navbar > Search field : Paste text without any problem
Hightlight selection now work with Apple Pencil
Some other
Road map
Add 4 tabs
General : improve website compatibility (currently not working when CSP headers)
Ele­ments tool : improve style edition
Console tool : suggestions
Add Co­lor­Pi­cker tweak
Features
As there is no web inspector implemented to Safari iOS, it is very dificult to web dev on iPad Pro. JuDorange : Web inspector is the missing tool you need !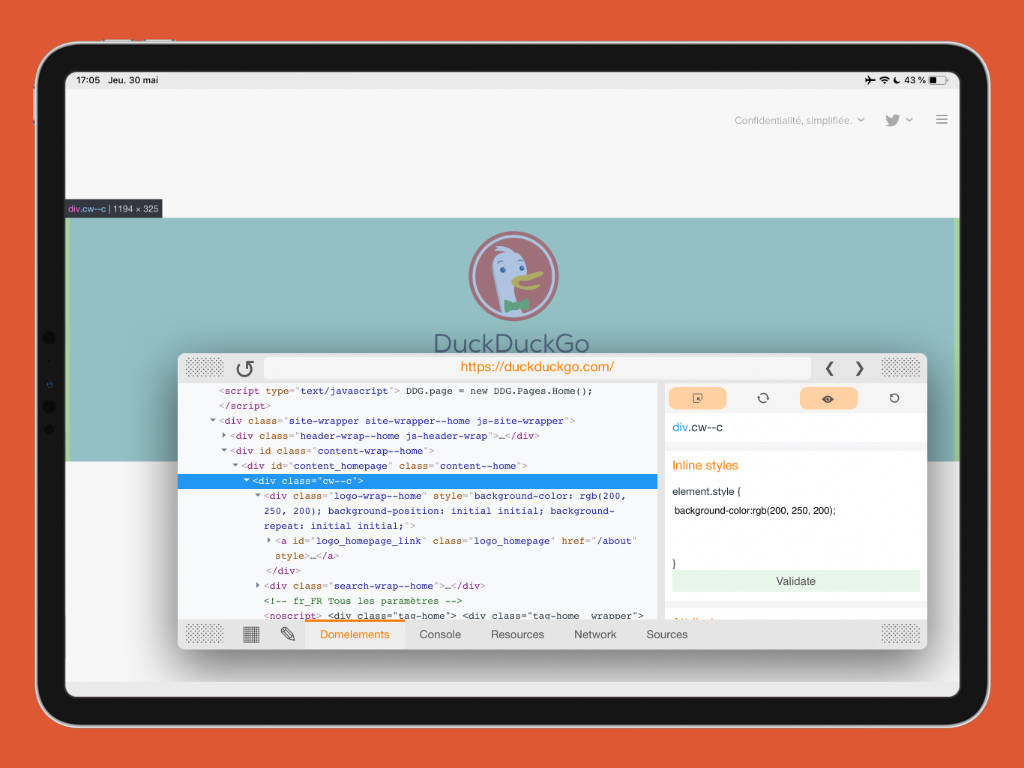 General
Inspect, Edit and Debug web pages
Move inspect window freely
This browser work with local or remote web servers
4 tabs (commimg soon)
Elements
Inspect dom tree
Live CSS editing
Live HTML editing
Check element event listeners
Check element attributes
Check all computed styles
Console
Execute Javascript
Check errors through the console
Resources
Check included Styles, Scripts, Images, Iframes, Cookies, Sessions, Local storage
Network
Check network calls after page first load (ex: AJAX requests)
Timing
Measure resource lading times
Sources
Check entire page code for easy copy/paste
Info
Location, User agent, Device, System, Version
Privacy
1/ L'application "JudOrange Web Inspector"
Je soussigné, Julien Cuénot, développeur de l'application "JudOrange Web Inspector", certifie qu'aucune donnée utilisateur n'est directement collectée par moi-même ou par un tiers directement depuis l'application "JudOrange Web Inspector".
2/ Utilisation
À noter cependant qu'en utilisant cette application, vous êtes en mesure d'accéder à différents sites web qui eux peuvent collecter des données utilisateur stockées dans l'application "JudOrange Web Inspector" telles que les cookies. Dans ce cas, merci de vous référer aux informations de légales du site web en question.